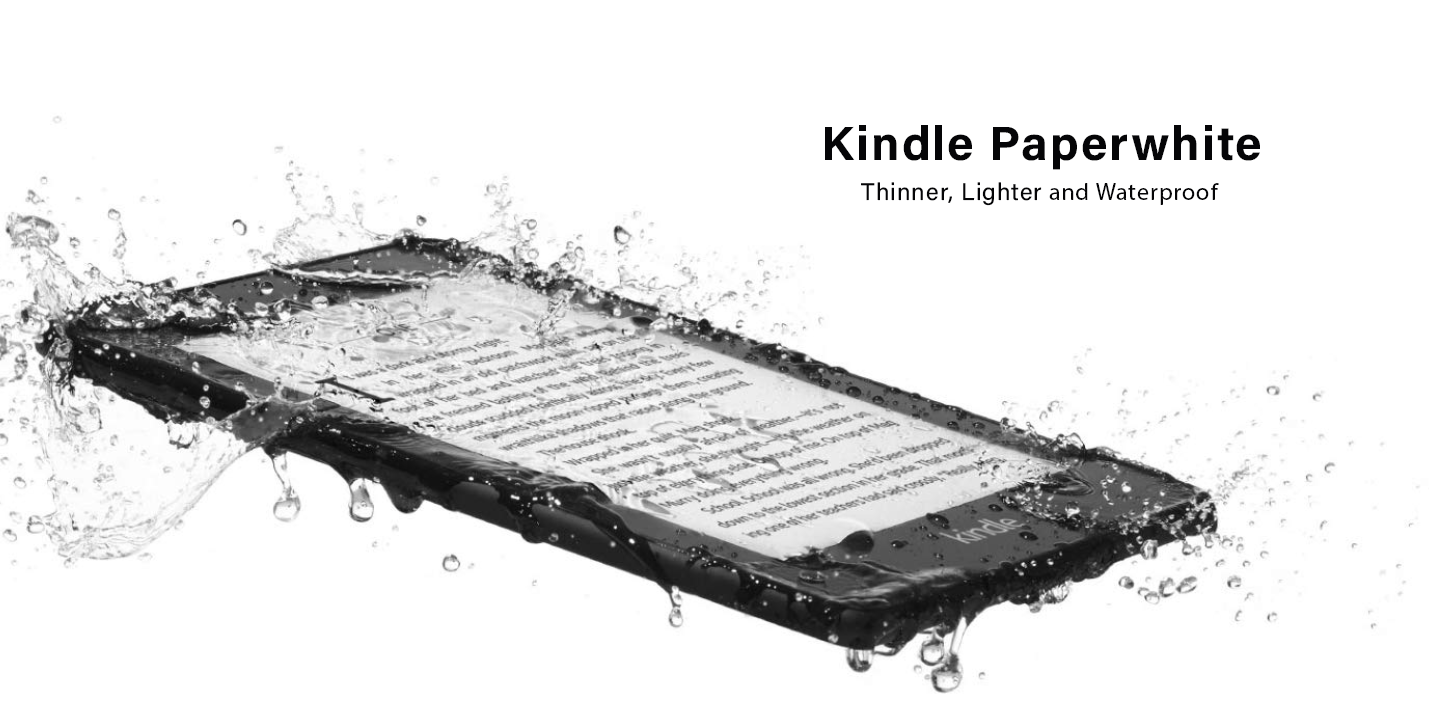 Amazon Kindle Paperwhite Price in BD
The latest Amazon Kindle Paperwhite Price in BD starts from 12,500 tk. There are only two variants: 8GB and 32GB. You can find four different colors like Twilight Blue, Black, Plum and Sage. There's a reason that Amazon's Kindle Paperwhite is the best-selling Kindle model. The base Kindle is usually considered too essential, and the more expensive Oasis isn't accessible for many. The Paperwhite Kindle Paperwhite is a good choice for those who need a virtual device and has the perfect equilibrium between the two. It is also why it's the best option for brand novices to use ebook readers.
Amazon Kindle Paperwhite Best Features at a Glance
Display: 6in
Storage: 8GB or 32GB
Connectivity: Wifi, wifi and 4G, Bluetooth
Dimensions: 167mm x 116mm x 8.18 mm
Weight: 182g
Water-resistant: Up to 2m
Battery: 6 weeks
Pros: Water-resistant design, Audible support, glare-free screen
Cons: Micro-USB charger, no color temperature adjustment
Amazon Kindle Paperwhite 10th Gen Review
Design
This new model is almost exactly like the model before it. The soft-touch matte black case is exactly like the previous model; however, the Kindle logo has been changed to light gray and contrasts with the issue instead of a black counterpart.
The brand new Paperwhite, The new Paperwhite, is 0.32 inches thick. It weighs 6.4 grams, making it a smaller version of the Paperwhite from 2015. Paperwhite (0.36 inches and 7.2 grams). Amazon's price of $79 Paperwhite is lighter and thicker but doesn't have backlights, so it's not a good choice for the nighttime.
The brand new Paperwhite is smaller than the graphite aluminum Kindle Oasis (0.33 inches or 6.7 grams), and its Barnes & Noble Nook GlowLight 3 (0.35 inches, 7.0 ounces) is slightly heavier and thicker. The Nook also has buttons to turn the pages, which could be something that the Paperwhite might benefit from adding. Rakuten is one of the Japanese electronics manufacturers that has recently joined forces with Walmart and has just released its Kobo Clara HD. This similarly priced e-reader is expected to be tested soon.
Then, I remembered why I prefer the Oasis style over the Paperwhites. Contrary to Paperwhite, it is Oasis symmetrical. It has only a thin bezel to one end, a button clickable, and a bigger bezel on the other. It is, therefore, easier to hold. The slightly curly back of the Paperwhite is also a lot more user-friendly than the Oasis', which has a bump that you can control with your fingers.
Durability
The most notable improvement in the new Kindle Paperwhite is its waterproof design, which has earned it an IPX8 rating. This means an extended period of up to sixty minutes submergence within the water for 2 meters. It's not necessary to worry about it spilling to the bottom of your tub, pool, or the beach at night (though this is more dangerous, as saltwater is more harmful to the environment).
The Paperwhite was not just splashed with water onto the Paperwhite during a photoshoot, but I also dropped the Paperwhite into a bucket that was about a foot tall of tap water and took it out after 20 minutes. This device continued to function and provide a responsive page-turning experience like it had been dry for the entire duration.
The technical aspect of the IPX8 classification implies that it is possible to have been waiting for another 40 minutes before we got it even more profound.
Display
The Paperwhite's 6-inch 300 PPI display is as clear and straightforward to read as the previous model: an excellent instance that "If it ain't broke, don't fix it." The anti-glare display on the screen is still amazing to read in various lighting conditions.
Our light-gun rated the display for an optimum of 78 nits. That is a bit lower than the 92-nit 2014 Paperwhite and far below those of the 13-nit Oasis. The Kindle has five LED backlights, one higher than 2015's Paperwhite (which had four) and seven less than the Oasis (which included 12), and an adjustable sensor.
When I was consuming the tensest part from Stephen King's The Outsider on the Paperwhite, I noticed a small gap between the bezel and the screen. This gap also appears on Kindle Oasis, and it's similar to the opening that many smartphones feature. It's not a big deal and isn't that significant; however, it's an area that E-ink displays still have a chance to advance.
In the novel by Andrew Sean Greer Less In Bryant Park, I noticed the Paperwhite's extremely legible display one sunny morning. Indirect light, the page was clear to read.
You can also use Paperwhite to read graphic novels, as I discovered when reading Kieron Gillen's The Wicked and The Divine. The display on the e-reader is grayscale. not an excellent fit for books in color, however.
User Experience
Overall it's a good experience. Paperwhite is still an absolute pleasure to use. Pages refresh, and carriers are loaded at a limited speed by the E-ink's. Compare that to the slow and sluggish performance of Nook GlowLight 3, and you'll be able to understand the reason why "Nook" became an afterthought in the market for e-readers.
When I switched on the light in my room, getting ready to finish a chapter of Jennifer Egan's Manhattan Beach before I went to bed, I was struck by Paperwhite's inability to alter backlighting automatically. It's not the main issue; it took me two taps to reach the menu for brightness and some playing around to find the correct settings; however, I overlooked the Oasis that knew when I was in a dark space and compensated for the darkness without needing to be told.
Based on a query from Tom's Guide forum member Derek87, I've looked at the 2018 Paperwhite's lighting in dark lighting to that of the Paperwhite 2015. The 2018 model had more uniform, even lighting, particularly at the lowest range of the brightness levels (set between 5-8). Additionally, the 2018 model was bright by one notch as the 2015 model with five gaps.
Battery Life
Amazon has rated its new Amazon Kindle Paperwhite as lasting as long as six weeks when charged. It's based on thirty minutes of reading per day with wireless off and the light setting at 13." The super-retailer claims that the time could vary because of Bluetooth, wireless, Bluetooth, and lighting.
Based on my experiences and observations, I think that the estimate is. After working with the Paperwhite for a couple of hours each day, and even for hours at maximum brightness, and using Bluetooth or Wi-Fi and LTE, I was able to knock the battery life estimation on the screen down to 50.
Audiobooks
Amazon has added support for audiobooks on Paperwhite. This option came via Bluetooth headphone support and was once restricted to the other Kindles, or customers willing to shell out money for Amazon's micro- USB-to-headphone-jack adapter.
As I listened to Emma Galvin read Edan Lepucki's post-global disaster-relationship novel California over my AirPods, I wandered around my living room with no loss in audio quality. Only when I got to the edge of my loft that was medium-sized did the audio begin to crackle in a jumble of noise.
Final Verdict of Amazon Kindle Paperwhite Price in BD
If you have the previous version of the Paperwhite edition of the Kindle If you already have one, then you will not see a significant change in the performance. The addition of Audible and the fact that it is waterproof are sufficient to make us believe that it is a considerable upgrade to get. The flush slim bezels make the Kindle much more pleasant to hold, and the 300ppi non-colorless display is very similar to reading a book on paper and is therefore comfortable to look at.
Whether you're a regular or a devoted book reader, If you're a book lover, the Kindle Paperwhite is an excellent and reliable choice. Kindle price starts at PS139 for the basic model in the eleventh version. So if you're looking for a low-cost option, it's the 10th version—the one for you.
Overall it is clear that this strikes an outstanding balance between performance, affordability and high-end. All the latest features come with the best price in the Bangladesh market at Apple Gadgets. Best reasonable Amazon Kindle Paperwhite Price in BD they offer to you that you can't ignore. Buy now.