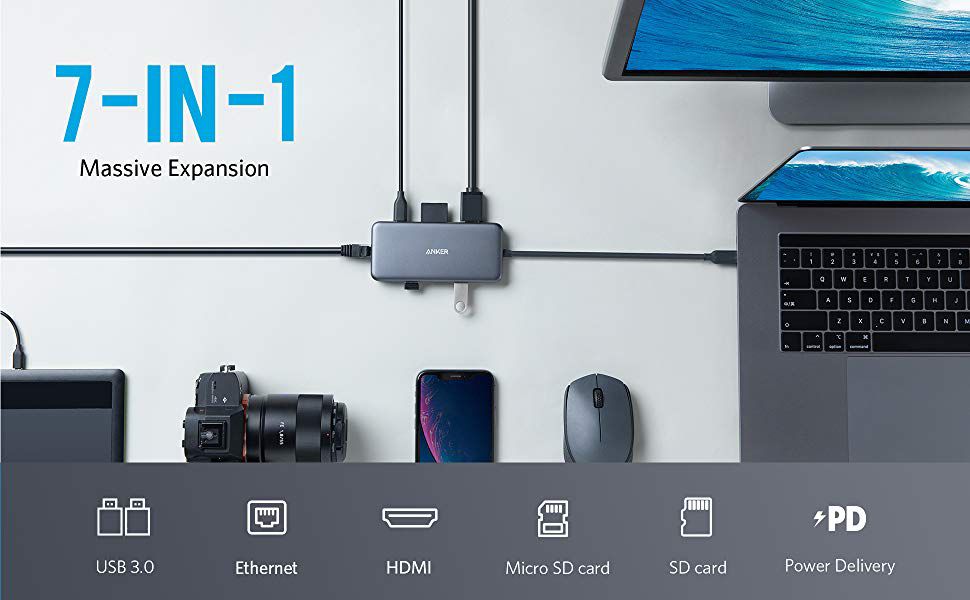 Anker PowerExpand+ 7-in-1 USB-C PD Ethernet Hub
The Anker PowerExpand+ 7-in-1 USB-C Hub offers remarkable versatility by connecting seamlessly to a wide array of devices. With its comprehensive set of seven ports, including two USB-C ports, three USB-A ports, an HDMI port, and a VGA port, this hub becomes an all-in-one solution for expanding your laptop or MacBook's connectivity. Additionally, it boasts fast charging capabilities of up to 48W, making it an ideal choice for powering your devices on the go. Say goodbye to limited ports and embrace the convenience of the PowerExpand+ 7-in-1 USB-C Hub to unlock the full potential of your device.
Anker Powerexpand+ 7-in-1 USB-C Features
This device expands your MacBook's USB-C port with 4K HDMI, Ethernet, SD/TF card readers, USB-A, and pass-through charging.
It holds a superspeed data transfer rate with a 5 Gbps data transfer speeds
It delivers great power to compatible Apple devices. In exact 48W charge for MacBook (60W wall adapter required)
The compact 4.6 × 2.1-inch design fits easily in your bag or pocket for effortless portability
Anker Powerexpand+ 7-in-1 USB-C Price in Bangladesh
The latest Anker Powerexpand + 7-in-1 USB-C price in Bangladesh starts from 4500 BDT. Get this useful equipment from Apple Gadgets at an affordable price.
Where to buy Anker Powerexpand+ 7-in-1 USB-C in Bangladesh?
Looking for the best place to purchase the latest Apple products or other top-quality gadgets in Bangladesh? Look no further than Apple Gadgets, the unparalleled leader in providing top-notch gadgets in the country. Enjoy the convenience of two shopping options with us – either through our seamless online platform (Apple Gadgets) or by visiting our physical outlets in different locations. Rest assured, we have you covered for all your gadget needs including Anker Powerexpand+ 7-in-1 USB-C.
See more products in the Hubs and Docks category.