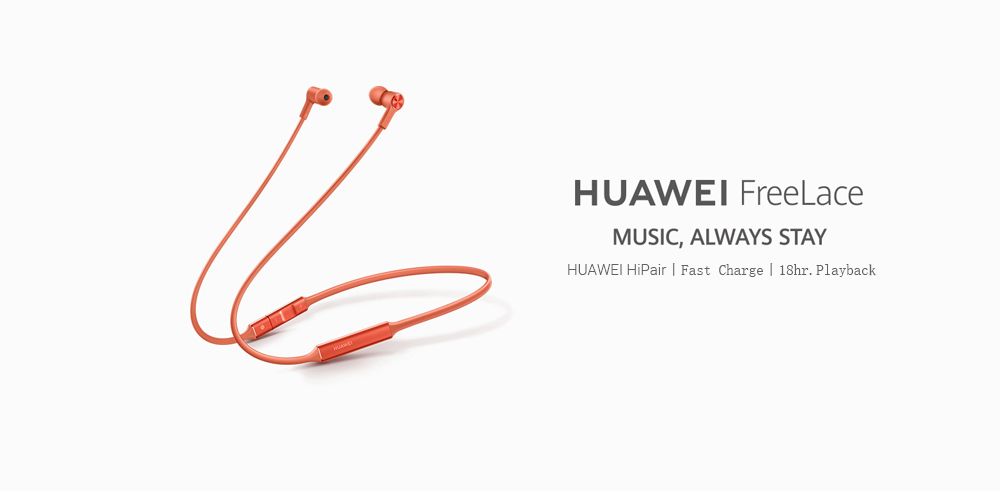 HUAWEI FreeLace Wireless Earphones
Introducing the Huawei Freelace Wireless Earphones, the perfect audio partner for your on-the-go lifestyle. With exclusive Huawei HiPair Technology and a convenient type C connector, these earphones ensure quick and hassle-free pairing with your devices. Enjoy a lightweight design and a comfortable fit that allows for all-day wear. Immerse yourself in fantastic audio, with a perfect balance of bass and treble that brings your music to life. And with long-lasting battery life, you can enjoy your favorite tunes for hours on end. Upgrade your listening experience with Huawei Freelace Wireless Earphones.
Huawei Freelace Wireless Earphones Features
Exclusive Huawei HiPair Technology Feature
These wireless earphones come with an exclusive built-in USB Type-C plug and self-developed HUAWEI HiPair technology. Through the technology, once you plugged the earphone into the phone, they can be paired at once. Through the type c connection, the earphone can be reverse charged by the phone in an emergency during workouts.
Huawei Freelace Wireless Earphones Other Features
Minimalist design with lightweight to provide full comfort
Immersive music experience with serging bass and melodious treble
Nickel-titanium alloy and liquid silicon to feel smooth and contour
Ultra-long battery life with fast charging capability
Built-in using detection can save the battery life
Wind noise reduction to deliver crystal clear calls
IPX5 water and sweatproof gives you the opportunity to make
Your day any situation
Huawei Freelace Wireless Earphones Specifications
Body
788 x 837 mm
27g
Driver
Dynamic
9.2mm
Connectivity
Bluetooth
5.0
Resistant
IPX5
Water Resistant
Sweat Resistant
Battery
120 mAh
18 Hours Playback
Know more technical specifications of Huawei Freelace Wireless Earphones from the "Specifications" bar right beside the Description bar.
Huawei Freelace Wireless Earphones price in Bangladesh
The latest Huawei Freelace Wireless Earphones price in Bangladesh starts from BDT. Upgrade your audio experience with Huawei's cutting-edge technology with it.
Where to buy Huawei Freelace Wireless Earphones in Bangladesh?
Welcome to Apple Gadgets, the leading name in the thriving gadget market of Bangladesh. With an unparalleled reputation for trustworthiness and reliability, we are your go-to destination for all your gadget needs. Discover an extensive range of gadgets including Huawei Freelace Wireless Earphones and enjoy multiple purchasing options that ensure the utmost convenience in finding your desired products.
In addition to our numerous outlets spread across Dhaka city, we proudly present our online platform where you can effortlessly browse and purchase gadgets and accessories. This dual approach provides you with two fantastic options. You can either immerse yourself in the immersive experience of our retail outlets, where you can physically explore and acquire your desired gadgets, or simply place an order on our user-friendly Apple Gadgets website.
Don't miss out on this fantastic opportunity! Hurry and secure your desired products from Apple Gadgets today.
See more products in the Wireless Headphone category.