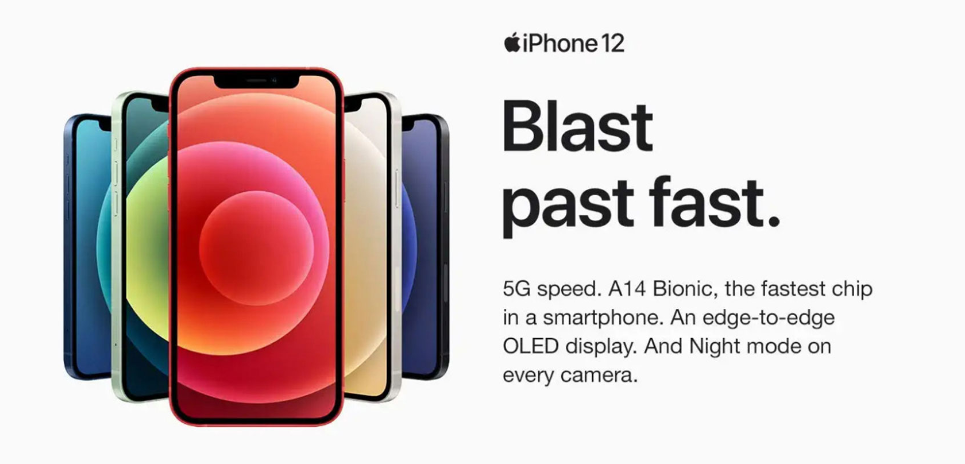 Apple iPhone 12 Price in Bangladesh
The latest Apple iPhone 12 Price in Bangladesh starts from 77,000 tk. iPhone 12 is now available in three variants: 64GB, 128GB, 256GB (RAM / ROM). Apple iPhone 12 which is available in 6 colors like Red, Green, Blue, Purple, Black and White.
This iPhone 12 is one of the best iPhone on the Bangladesh market and price in BD is very affordable. It's sturdy and has the most extended battery life. The camera system in this iPhone is also top-notch. This phone is slim, heavy and expensive. The iPhone 12 is for those who want the best iPhone with a limited budget.
iPhone 12 Review:
Design
Apple does not often alter the design of its iPhone over time, So any change, regardless of how tiny -- is welcomed with excitement. The iPhone 12's sleeker design is one of those subtle changes.
The smooth edges look great and provide a welcome variation from the past several years of iPhones with rounded edges. Additionally, they increase your iPhone 12's durability when combined with Apple's brand-new Ceramic Shield material, as the round frames of earlier iPhones caused them to be more fragile.
We'll conduct drops of our own; however, it appears that the Ceramic Shield display performed very well during EverythingApplePro's test of torture on YouTube. It appears that both the iPhone 12 and iPhone 12 Pro didn't crack at the shoulder or hip height when dropped. The display on the standard iPhone 12 didn't even crack at 10 feet, even though the back of the display did.
Display
The iPhone 11's LCD has always been the most problematic aspect of Apple's flagship premium iPhones over the past few years. However, this iPhone 12 alleviates that. This is due to a brand new 6.1-inch Super RetinaXDR display identical to the display you'll find in the iPhone 12 Pro.
The panel has 2532x1170 pixels, which makes for an enormous increase in the clarity of the on-screen content compared to the old 1792x898 iPhone display. It's also HDR10 certified and allows you to stream any video recorded using the phone's Dolby Vision rear camera in just the way they were designed to be watched.
While watching the trailer for the forthcoming Monster Hunter film that seems like it was could never have been produced, I felt a bit satisfied by the quality of the scales, the horns, and teeth on Black Diablos glinting in the desert sun. The black smoke of an explosion was also starkly contrasted against the bright daylight scene in a manner that wouldn't look nearly as appealing on the LCD screen of the iPhone 11, which is unable to show true black.
Camera
If you look at the exterior, it's hard to imagine any significant changes regarding the camera on iPhone 12. iPhone 12. The dual-lens rear shooters are set up the same way as they were for the year 2019. Both of the ultrawide and wide optics are supported by 12-megapixel sensors.
Don't let your eyes fool you, though, since changes have been made. The primary camera, in particular, is now equipped with a brand-new seven-element design that has the f/1.6 aperture, the most powerful yet on an iPhone. The outcome of both these improvements will be a significant 27% increase in low-light performance. This, together with improvements towards Smart HDR and Deep Fusion, can provide more clarity in the worst conditions.
In sunlight, the iPhone 12's primary camera doesn't have many negatives to be concerned about. Although the Note 20 indeed painted this idyllic lakeside scene more crisply, especially within the trees further away. I generally favor the iPhone 12's effort to capture a more natural set of hues, from the deep blue of the mid-afternoon sky to the oranges, yellows and greens surrounding the lake. Samsung has once more gone too far with its post-processing like it's often done.
Video
Apple has gone all-in with the 4K HDR video recording on the iPhone 12 line. As with its predecessors, the iPhone 12 and Pro Max, the regular iPhone 12 (and the smaller iPhone 12 mini) can record Dolby Vision video. Still, it only records at 30 frames per second, compared to the Pro models 60 frames per second. Dolby Vision is a type of HDR encoder that is more advanced than the traditional HDR10 format to give you a better color depth and make sure that the visual presentation is in a way. That is as accurate to the original content as is possible regardless of where or how content is displayed.
It isn't easy to comprehend, but trust us on this the difference becomes evident when you compare identical content in HDR and SDR. I took a park video of the sunset behind the trees. The difference in contrast between each of the instances was eye-opening. The sky was significantly lighter when I took the Dolby Vision recording, and I could discern the individual trees and leaves that reflected the sun. The highlights were faded or washed out in the SDR capture and, as someone who's used the iPhone 11 Pro for video for the more significant part of the year, I didn't know the details I'd missed.
To be honest, indeed, this iPhone 12 is far from the only phone that can shoot HDR video. It is, however, one of the few Dolby Vision-certified phones, and I'm able to affirm that the HDR footage I've taken on Samsung's Galaxy S20 Plus has never looked as great without editing as it iPhone 12 churns out by default.
Performance
Equipped with the fastest 5nm processor ever integrated into smartphones -- Apple's brand-new A14 Bionic is the iPhone 12, which delivers best-in-class performance that never falters. This chip inside the iPhone 11 series was already more efficient than Qualcomm's top 2020 chip known as the Snapdragon 865. However, the A14 makes it even faster. It's 2021 now, but we're beginning to see Snapdragon phones running 888, including those in the Galaxy S21 series.
The majority of phones require an hour or more for our test of video encoding for a video of a shorter 4K video converted to 1080p with Adobe's Premiere Rush app. The iPhone 11 Pro needed 46 seconds to finish the task, while the upgraded 888 Galaxy S21 Ultra is just 1 min and 2 sec. What about the iPhone 12, though? It's only 26 seconds.
Furthermore, Apple hasn't slain its way on graphics-related things too. Apple states that the GPU in the A14 Bionic is 50% quicker than the one inside the A13. Although the most recent mobile games may not always fully benefit from phones' rapid development, I can report that they were smooth and responsive. Asphalt 9 Legends -- which can be slow on higher-end Android handsets -- was fluid and crisp with the iPhone 12. (Of course, a more rapid refresh-rate display could have increased the impression of speed and responsiveness; however, that's a different issue.)
An even better gauge for performance would be 3DMark's WildLife graphics benchmark, which tests devices on rendering complicated, demanding images in real-time. Its Galaxy S21 Ultra tops out at 34 fps on this test. In our testing, the iPhone 12 hit 39 fps during our testing.
5G
Today, many smartphones are compatible with 5G technology, and you don't need to shell out more to get it. However, Apple's approach to 5G sets its iPhone 12 from all other 5G-capable phones.
5G will increase the demand for the battery of iPhones However, to meet this need, Apple has developed Smart Data Mode. This feature smartly switches to LTE and 5G based on whether or not the phone requires additional speed. For instance, if just streaming music on Spotify without a screen and the screen turned off, your iPhone 12 may elect to keep 4G on to conserve energy. However, once you start doing any web-based browsing or attempt the FaceTime HD call, 5G will be in full effect. The Smart Data Mode is optional, and if you'd prefer to be able to use 5G at all times, declare it as such in your phone settings.
Battery Life and Charging
Apple doesn't release its battery capacity for its products, making it hard to get any information about longevity from a specification sheet. A teardown of the iPhone 12 shows that it is possible to work with a battery of 2,815 mAh, which is about 200 mAh less power than what the iPhone 11 Pro had at its available.
However, larger-screen iPhones generally perform well during our test of the custom battery. The devices constantly surf the internet on cellular devices with 150 nits of brightness on the screen.
To put things in perspective To give you a sense of perspective, to give you a sense of scale, iPhone 11 tallied 11 hours and 16 minutes during the assessment, so we consider anything that is over the 11-hour mark as very good. However, the iPhone 12 averaged 8 hours and 25 minutes during the same test, which could significantly reduce.
But there's more to the story. Similar to Apple's iPhone 11, Apple rates the iPhone 12 for an identical 17 hours of video playback and the same 65 hours of sound. But, unlike iPhone 12's iPhone 11 didn't have 5G to compete with. Also, when we conducted our test with 5G turned off to use LTE, the iPhone 12 performed better -much better.
Final Verdict of iPhone 12 Price in Bangladesh
I'm in two minds regarding my thoughts on the iPhone 12. It's clear that this is an excellent phone overall and the majority of improvements Apple has made to its most-loved iPhone are optimistic for the future. The brand new Super Retina XDR panel is an incredible improvement over the low-quality LCD panels found in earlier models for this price. However, it's not equipped with an impressive refresh rate. Its appearance, MagSafe system and excellent dual-camera system earn the iPhone 12 high marks.
But Apple's inability to change in some key areas remains unsatisfactory. Nearly every major phone manufacturer has stopped generously in terms of storage capacity. The iPhone 12 still only starts with 64GB of storage is criminal, particularly in light of the iPhone 13's increased storage capacity.
Some prefer one iPhone 13 instead, even though an iPhone 12 costs are less. The latest iPhone offers faster performance, higher quality cameras, and a smaller screen. However, nearly one year after its release, it is clear that this iPhone 12 is still very worthwhile to purchase.
So Apple Gadgets Ltd offers the best price in Bangladesh for iPhone 12. Don't wait, buy iPhone 12 with the best BD price on the market before stock out.