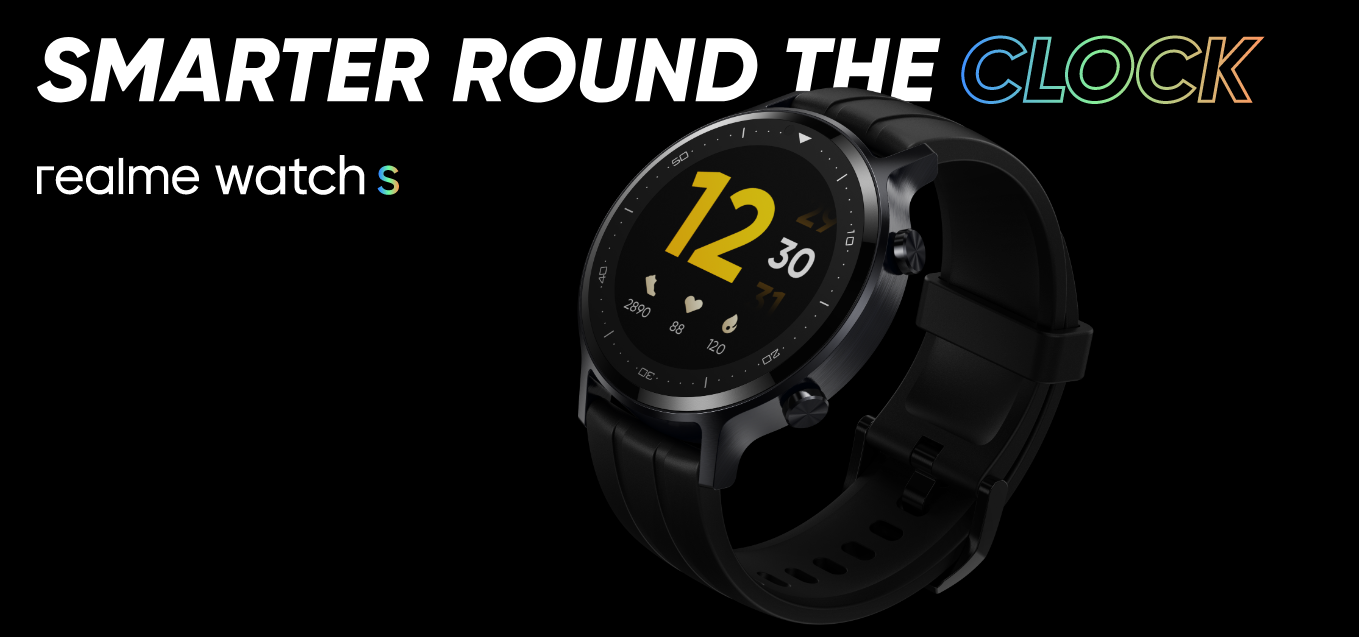 Realme Smart Watch S
The Realme Smart Watch S is an attractive and feature-packed smartwatch, with a stylish round design and excellent health monitoring capabilities. With advanced sports modes, it's the perfect companion for fitness enthusiasts. The watch boasts a long battery life and essential reminders, ensuring that users can enjoy the ultimate smartwatch experience.
Realme Smart Watch S Features
Stylish Design and Marvelous Display
Long Battery Life
Extraordinary Health Features
Realtime Heart Rate Monitor
Blood Oxygen Level Monitor
16 Sports Modes
Smart Control
Realme Smart Watch S Key Specifications
Display
1.3 inch IPS LCD
Body
47 x 47 x 12 mm
Battery
390 mAh
15 days Battery Life
Connectivity
Bluetooth, Version 5.0 A2DP LE
Resistance
IP68 Waterproof
Modes
16 SportsModes
Compatibility
Android 5.0 & above
Sensors
3-axis Accelerometer:Sensors
Heart Rate Sensor
Photosensitive Sensor
Wearing Monitoring Sensors
Realme Smart Watch S Overview
The Realme Smartwatch S boasts a sleek, round design with two beautifully crafted straps available in black and white. Its 1.3-inch IPS LCD display automatically adjusts brightness according to surroundings, ensuring clear visibility with a resolution of 360 x 360 pixels.
Its long-lasting battery life ensures worry-free usage, featuring a 390mAh mega Li-Ion battery with wireless charging that provides up to 15 days of power on a single charge.
This smartwatch offers advanced health features, including heart rate and blood oxygen monitoring, using highly accurate sensors that automatically generate reports for better health tracking.
Additionally, the Realme Smartwatch S supports 16 sport modes with real-time tracking, assistance, and logging, perfect for fitness enthusiasts. It's also water-resistant up to 1.5 meters with an IP68 rating, though not suitable for showering or swimming.
The smart notifications system allows for easy viewing of notifications from social media, messaging apps, YouTube, email, and more. The watch can also control music playback and the camera on the connected phone.
Other useful features include find phone, stopwatch, clock, weather forecast, dial, cloud multi-dial, low battery reminder, brightness adjustment, wear monitoring, power-saving mode, and no-disturb mode. With so many features, the Realme Smartwatch S is designed to make your life easier and more convenient than ever.
The technical specifications of Realme Smart Watch S from the "Specifications" bar right beside the Description bar.
Realme Smart Watch S Price in Bangladesh
The latest Realme Smart Watch S price in Bangladesh starts from BDT. It gains popularity for its user-friendly features and fascinating outlook.
Where to buy Realme Smart Watch S in Bangladesh?
Apple Gadgets leads the list of reliable gadget shops in Bangladesh. All kinds of gadgets such as smartphones, tablets, accessories, smart home appliances, and many more items are available in AppleGadgets. You can shop for any kind of gadget including Realme Smart Watch S at a very affordable price from Apple Gadgets. This modern gadget chain maintains two-way selling: Online and Offline. You can order it via Apple Gadgets Website or get it physically from any of our outlets.
Not only do they offer you the best available price in BD, but also they are known for their astounding after-service.
So, get your preferred gadget from Apple Gadgets.
See more products in the Smart Watch category.