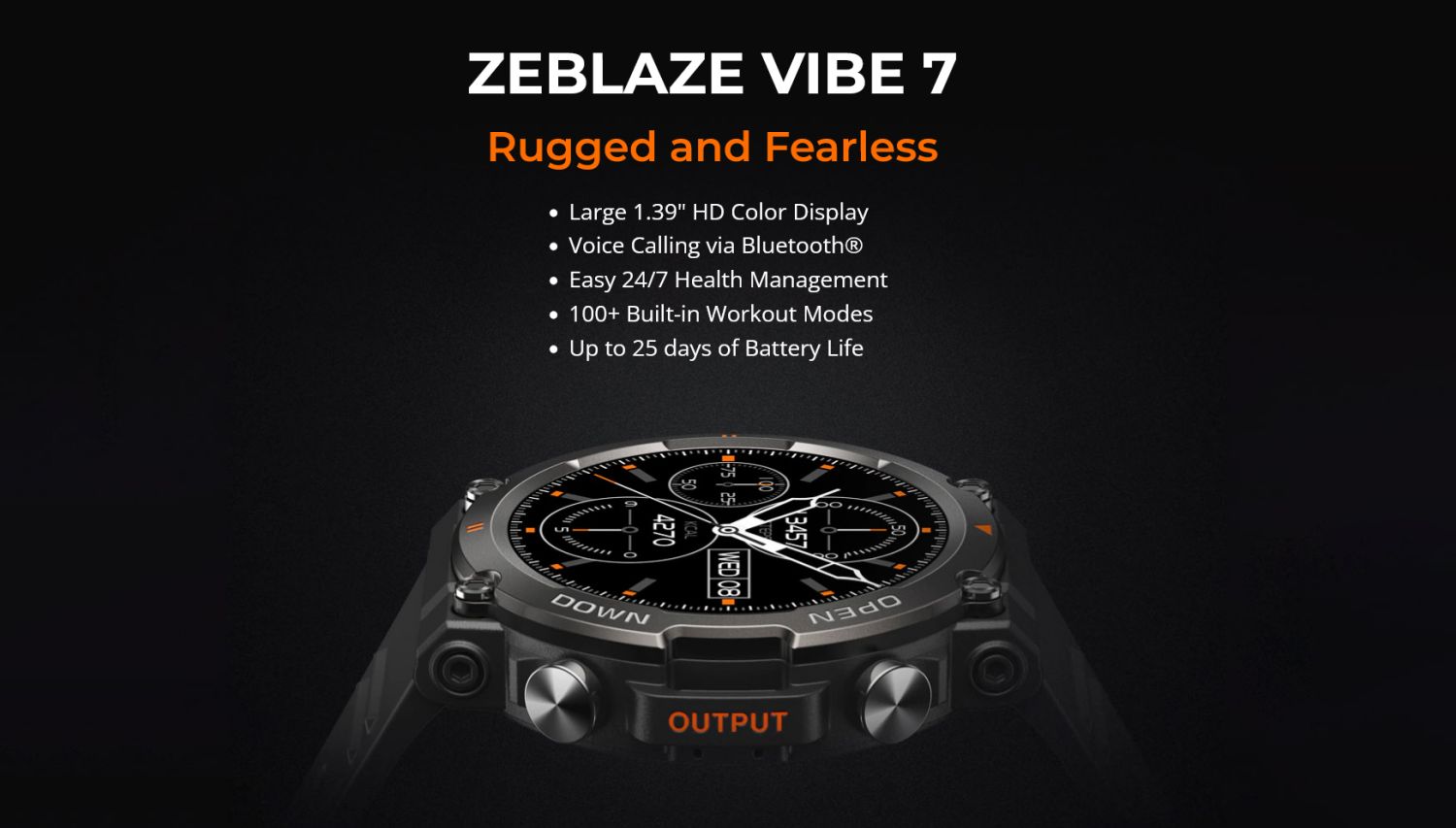 Zeblaze VIBE 7 Bluetooth Calling Smartwatch
The Zeblaze VIBE 7 is a smartwatch designed for fitness and daily use. The rugged and fearless smartwatch holds calling via Bluetooth system. Aside from that, it features a round display, heart rate monitoring, and multiple sports modes of sleep monitoring. A mega battery creates an opportunity to run the watch for a long time. It is IP68 waterproof and durable at very low and high temperatures.
Features of Zeblaze VIBE 7
Superior Toughness on both inside and outside
Large and Colorful Display
Countless Workout Modes (Legit)
Restless Health Monitoring
Voice Calling Over Bluetooth
Long Period of Battery Life
Zeblaze VIBE 7 Overview
The Zeblaze Vibe 7 is a rugged and durable smartwatch that is designed to be both powerful and practical. Its distinct, angular shape and strength-enhanced design make it capable of handling even the toughest environments, from hot deserts to polar glaciers. The advanced low power-consumption chip and optimized circuit design give the Zeblaze Vibe 7 a longer battery life, so users can wear it without worrying about charging.
The watch offers various features including call and message notifications, movement reminders, event tracking, Do Not Disturb, stopwatch, weather forecast, alarms, and timers. All of these features are designed to help users stay organized and on top of their day-to-day activities. The Zeblaze Vibe 7 is a smartwatch that is built to last, and it is designed to keep up with users no matter where life takes them. Whether you're facing tough conditions or just need to stay on top of your busy schedule, the Zeblaze Vibe 7 is the perfect companion.
Why Zeblaze VIBE 7 Special?
55°C Heat-resistance
-40°C Cold-resistance
240h Humidity-resistance
94h Salt spray resistance
Freezing & Rain-resistance
Shock-resistance
The technical specifications of the Zeblaze VIBE 7 Bluetooth Calling Smartwatch are from the "Specifications" bar right beside the Description bar.
Zeblaze vibe 7 Price in Bangladesh
The latest Zeblaze VIBE 7 Bluetooth Calling Smartwatch price in Bangladesh starts from BDT. The watch gets immense popularity for its rugged outlook and multiple functionalities.
Where to buy Zeblaze VIBE 7 Bluetooth Calling Smartwatch in Bangladesh?
Apple Gadgets leads the list of reliable gadget shops in Bangladesh. All kinds of gadgets such as smartphones, tablets, accessories, smart home appliances, and many more items are available in AppleGadgets. You can shop for any kind of gadget including the Zeblaze VIBE 7 Bluetooth Calling Smartwatch at a very affordable price from Apple Gadgets. This modern gadget chain maintains two-way selling: Online and Offline. You can order it via Apple Gadgets Website or get it physically from any of our outlets.
Not only do they offer you the best available price in BD, but also they are known for their astounding after-service.
So, get your preferred gadget from Apple Gadgets.
See more products on Smart Watch category.